MINISTRY HISTORY
In 14 years University of the Nations/Youth With A Mission (YWAM) Battambang has grown from a small handful of young volunteer missionaries into a vibrant and growing ministry that touches thousands of lives everyday in the second largest city in the nation of Cambodia.
CAMBODIAN HISTORY
From 1975-1979, the Khmer Rouge, a Communist Regime committed a mass genocide, killing an estimated 2-3 million innocent people. Civil war continued into the late 1990's leaving a war-torn nation trying to recover in the 2000's while most of Asia was developing rapidly. The effects of war are still seen in many ways including: significant poverty, education needs, corruption, little infrastructure, lack of healthcare, sanitation and clean drinking water.
WHAT HAS BEEN ACCOMPLISHED
Just some of the programs that we are currently running include:
THE JOURNEY AND EXCITING CHALLENGES AHEAD
The blessing of this success has brought with it corresponding challenges. From 2005-2016, all of our programs and staff/student housing were being run out of 14 rented facilities spread over a 4-mile radius. After prayerful consideration our leadership team all agreed that UofN/YWAM Battambang has matured as a ministry and was ready for new and greater things. Continuing to operate from so many locations was not able to best meet the needs of the city or encourage the development of a vibrant Christian community.
As a result we believed God called us to have a permanent location. From 2009-2011, we have been led to pray for God's direction and to research options. At the end of 2011, we found the right long term location. We praise God that through generous people like you we have been able to purchase a piece of property debt-free by the end of 2012.
We have moved onto the Campus since December 2016 after completing the Phase 1 of buildings from 2014-2016. We are still trusting God for the finances to complete Phase 2 of the campus buildings.
OUR NEW CAMPUS AND COMMUNITY DEVELOPMENT CENTER
Our 13-acre site is strategically located 5-minutes from the Core of the City and will accommodate the development of a full-blown University of the Nations YWAM Campus and Community Center.
Educational Center for 1000+ students from the local community

Vocational Training for 50-100 students

Housing for 250-300 Staff, Students & Short-Term Volunteers

Classrooms for YWAM Bible & Missions Training Courses
Children's Ministry, Preschool and Playground

Multi-purpose facility for larger gatherings of 1000+

A cafeteria to serve meals up to 500 people daily
OUR NEW CAMPUS AND COMMUNITY DEVELOPMENT CENTER
Our 13-acre site is strategically located 5-minutes from the Core of the City and will accommodate the development of a full-blown University of the Nations YWAM Campus and Community Center.
Touch or hover over any of the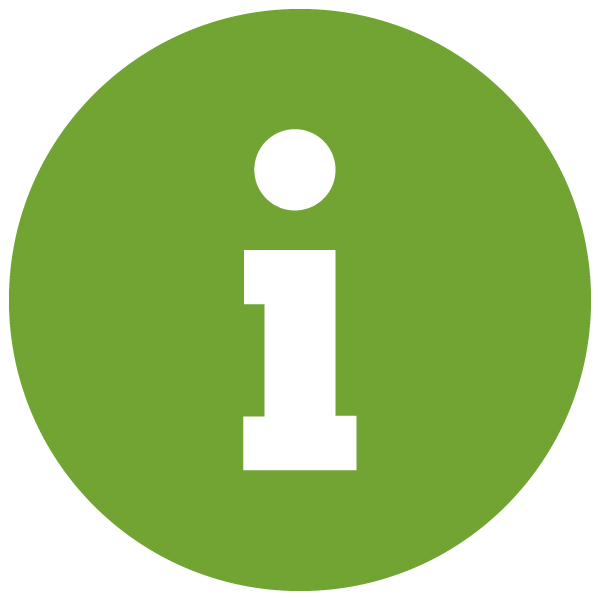 to see more.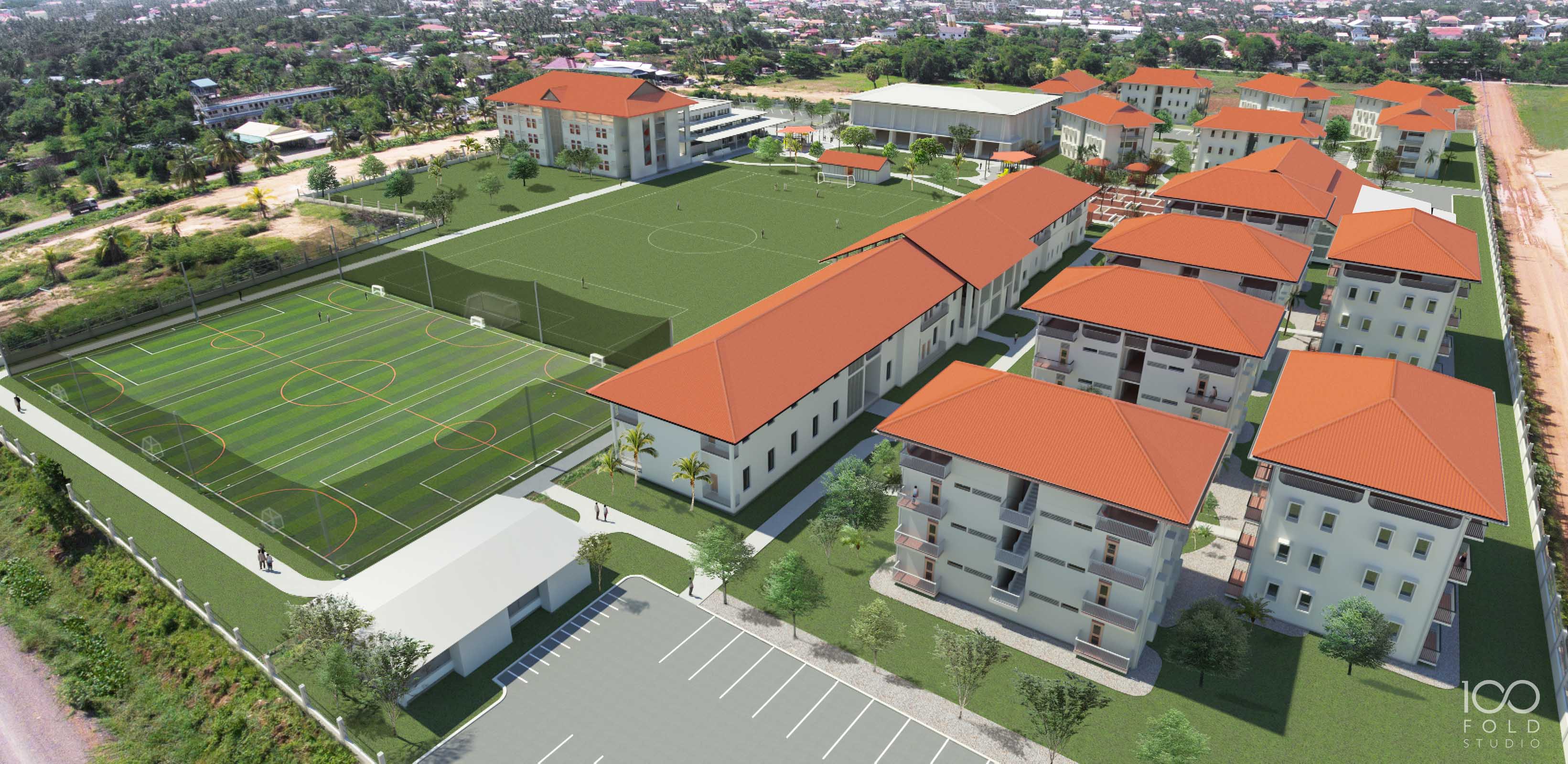 Soccer Fields and Kids Parks

Khmer people love soccer. A full sized grass soccer field, 3 futsal turf fields and play parks will be a great asset to welcome youth and parents with kids to engage with them on campus.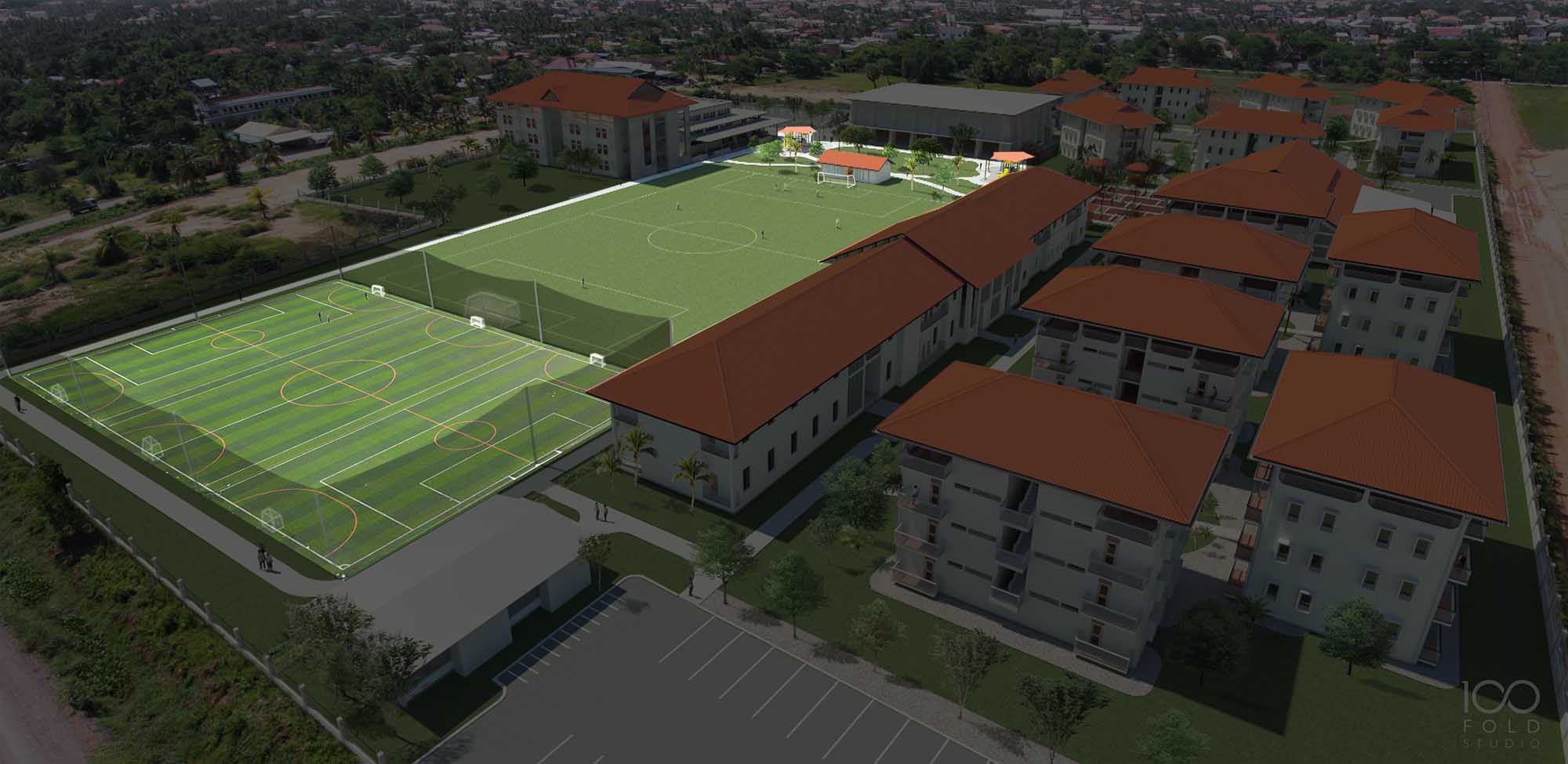 DORMS

4 single dorms and 2 couple dorms will be able to house 300 people.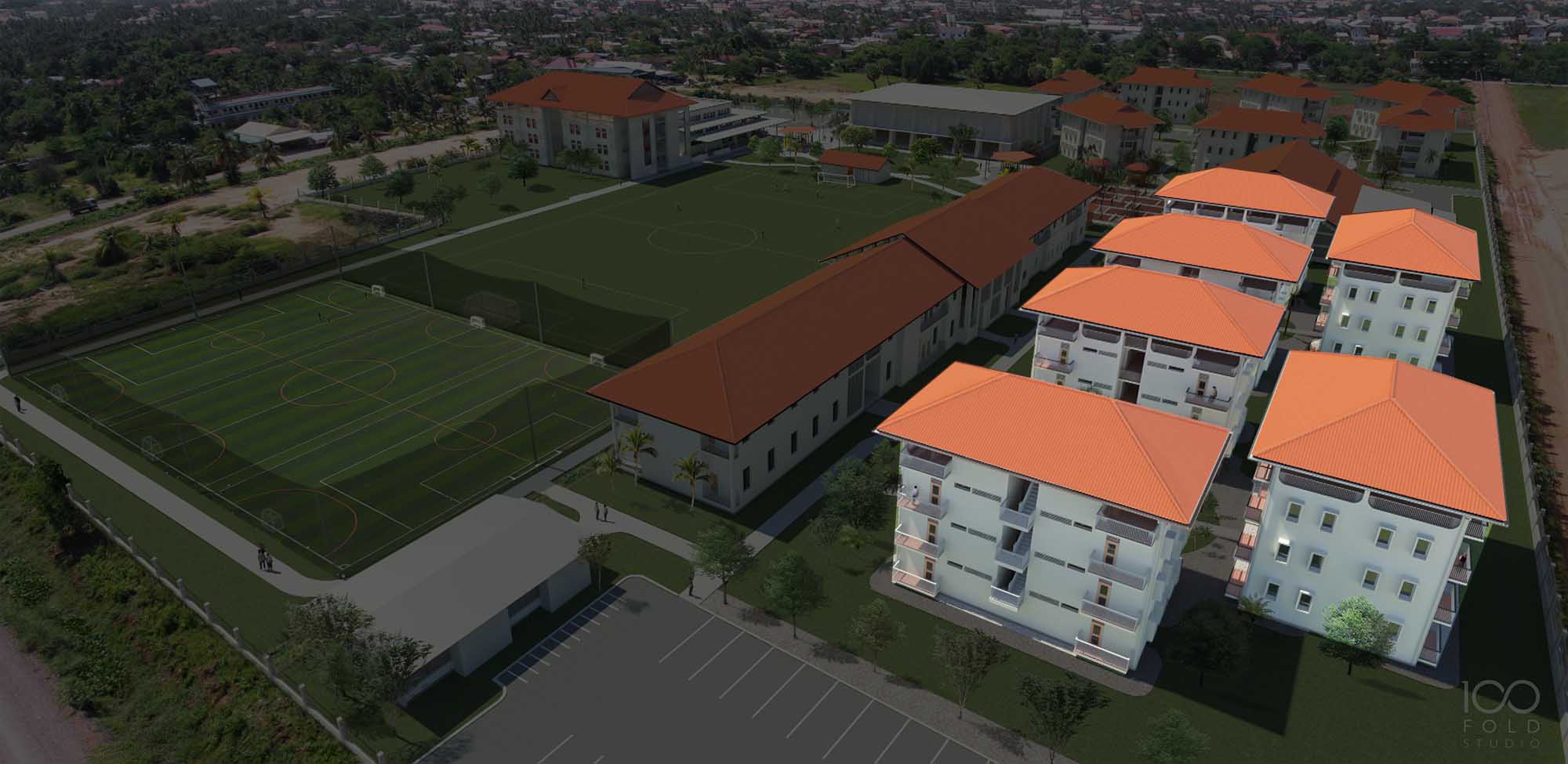 Fitness Gym

This functional fitness gym ministry is already engaging with the community and helping staff be better missionaries.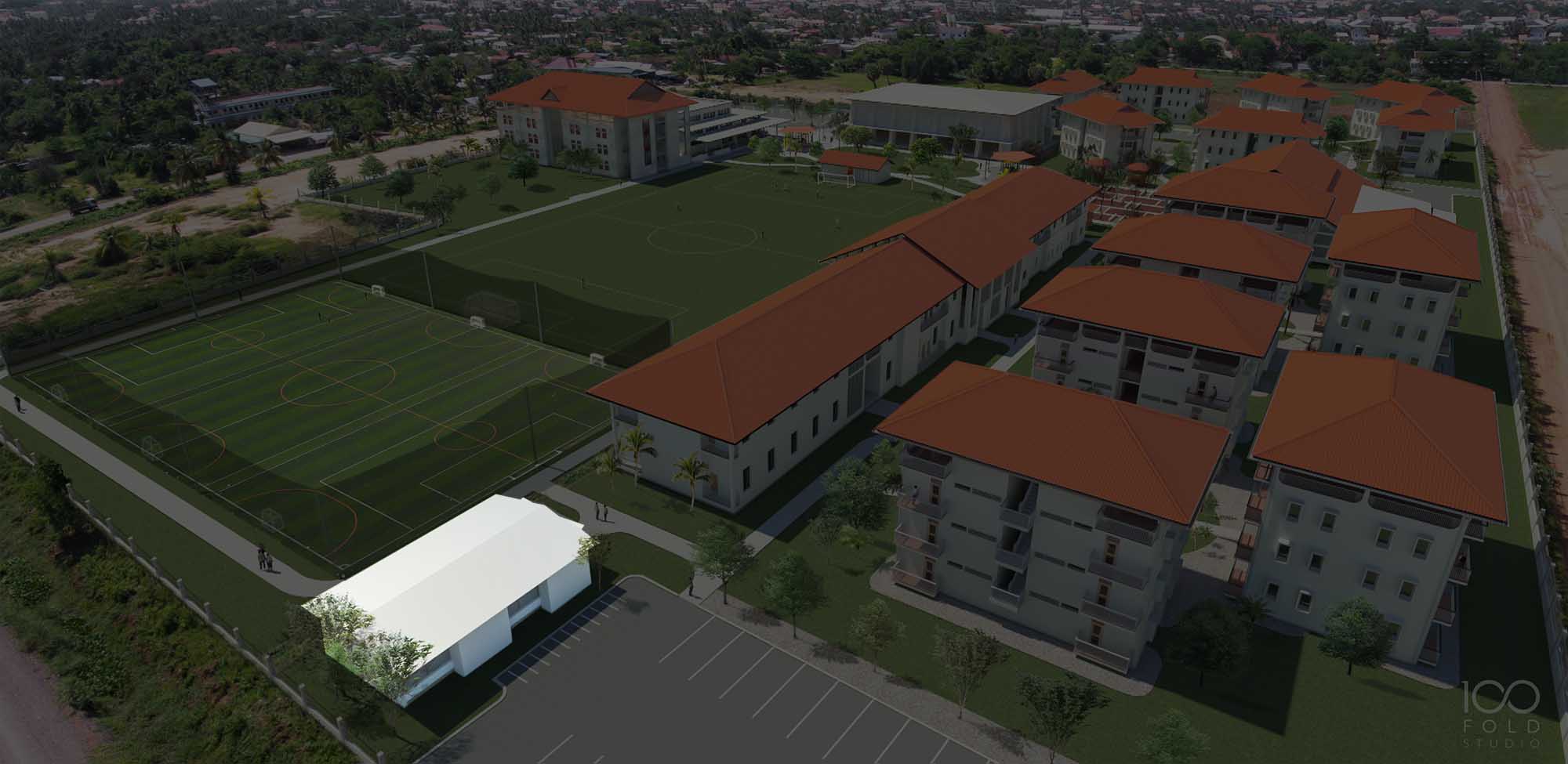 Cafeteria

Large cafeteria for UofN family and friends to restore their strength over food and fellowship.

Family Apartment Buildings

7 Family apartment buildings will be able to house 140 people.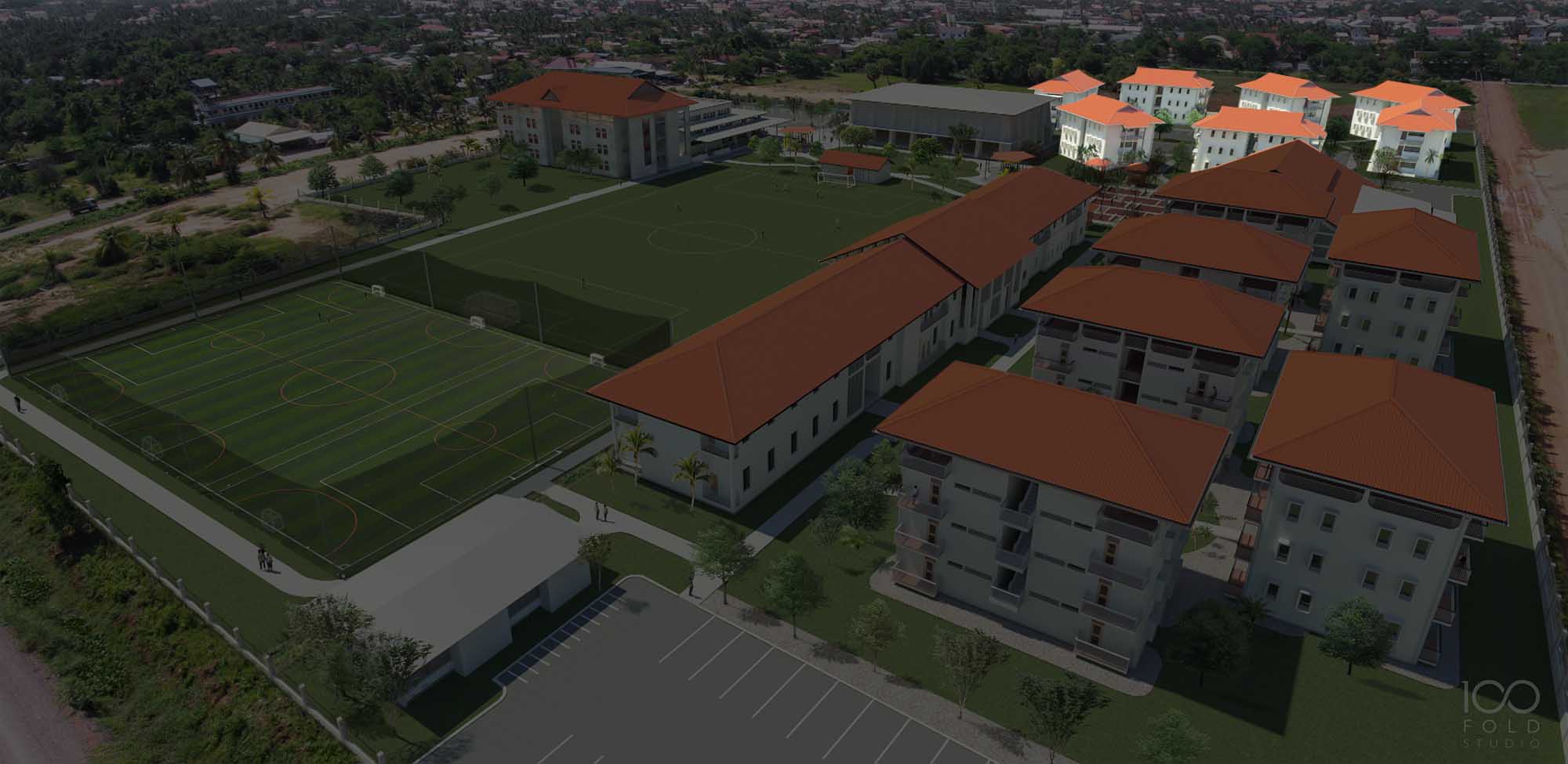 Multi-Purpose Building

As a South-East Training hub, the campus sometimes hosts thousands of people at a time. Aside from these global events, this will be a well used building.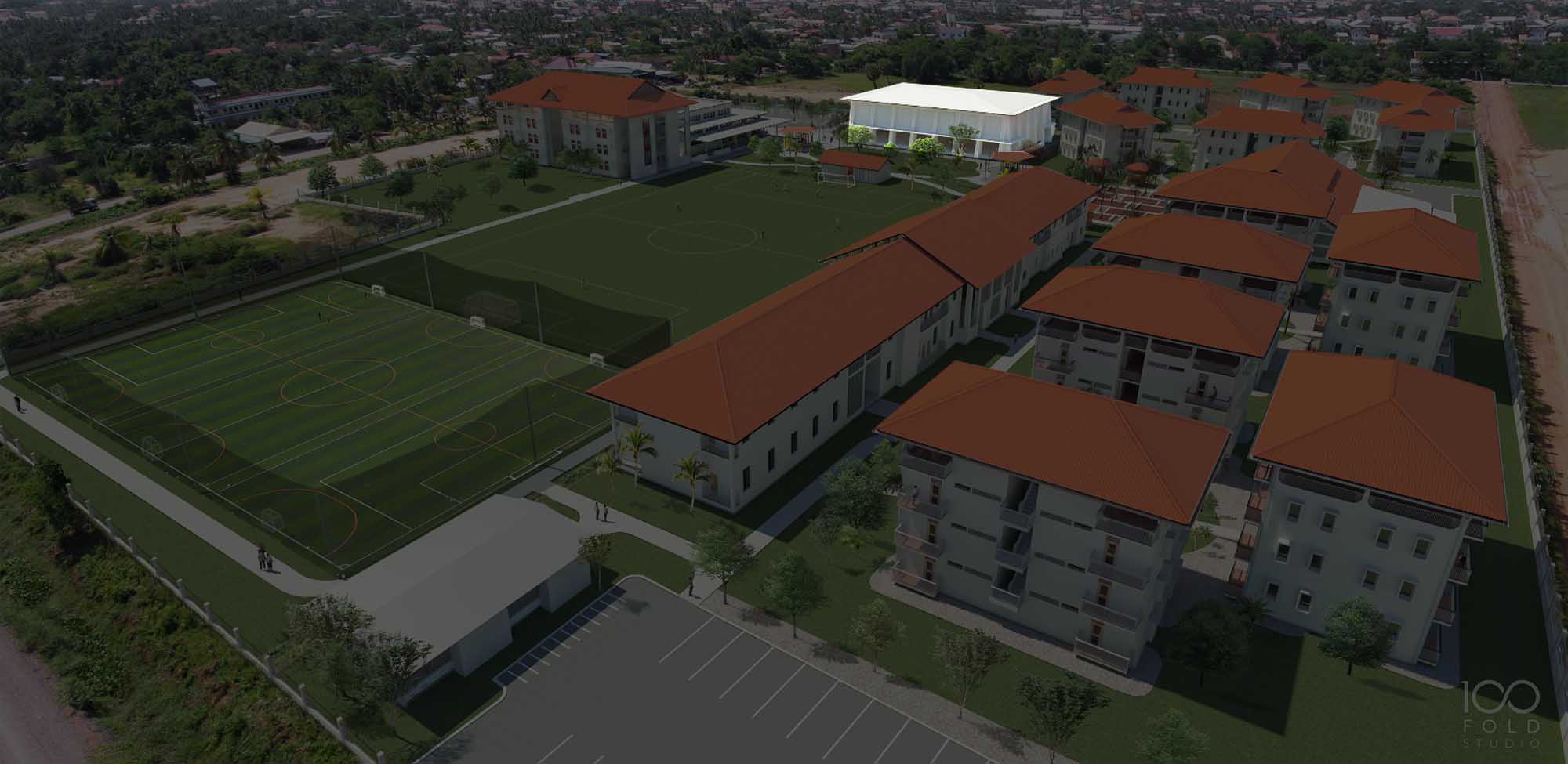 Public Cafe and Auditorium

This cafe and seated auditorium will accommodate 400 people.
Positioned to the front of the site; our focus is on communities round us.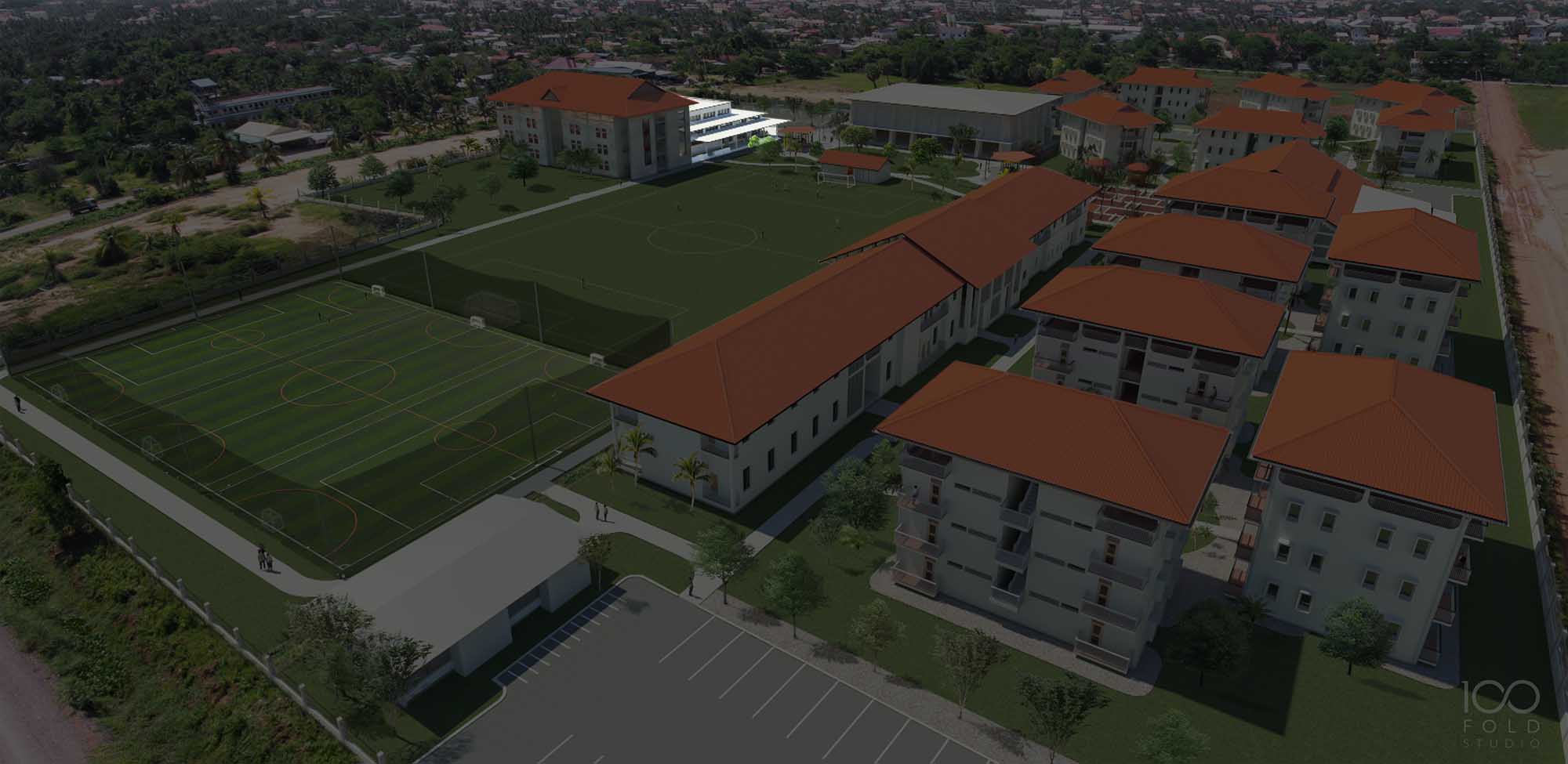 Youth Development Center

We make opportunities to reach out to youth by teaching them life skills such as English, guitar, computer, art, cooking etc.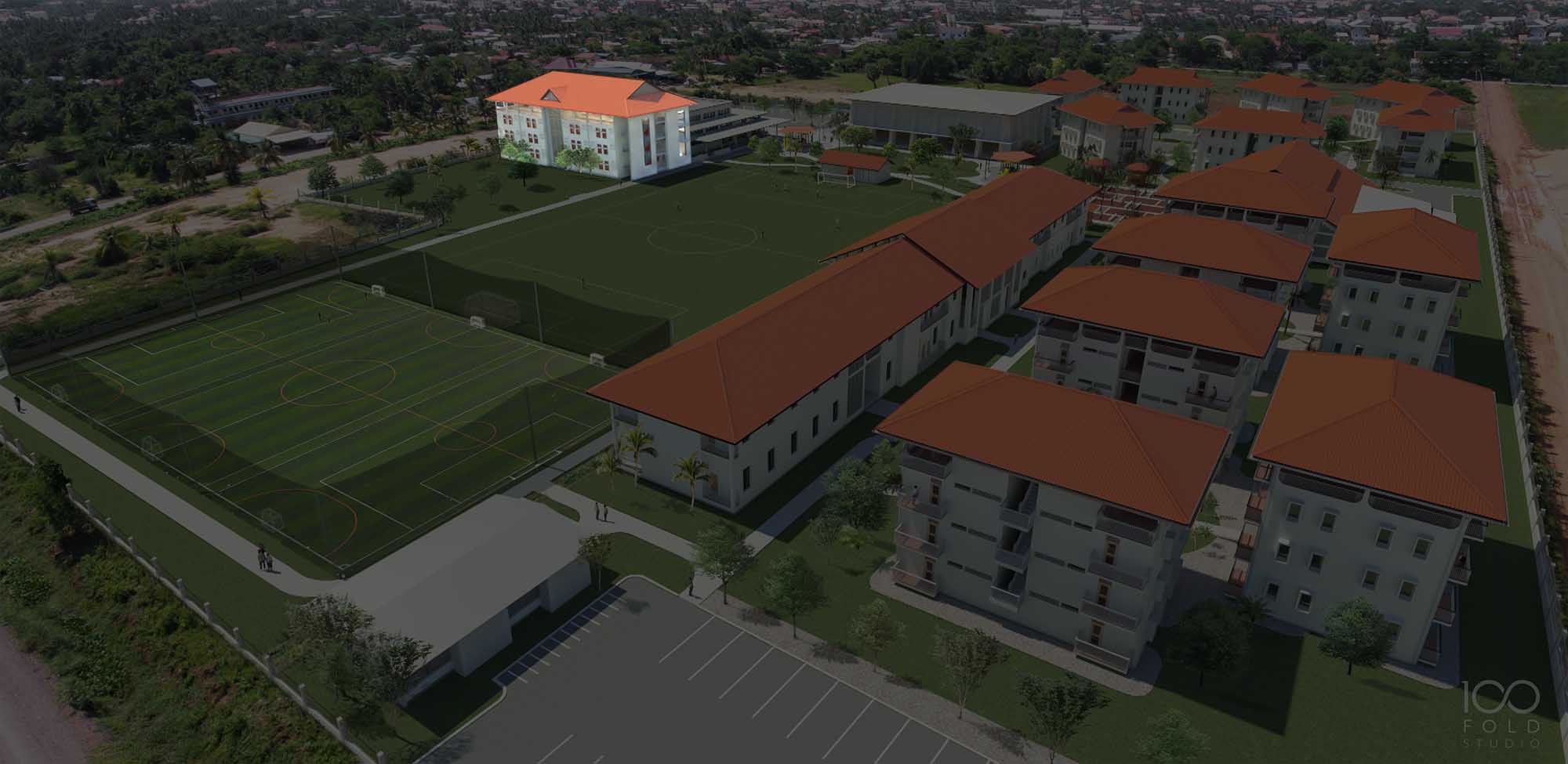 Office and Classrooms

This will accommodate 550 people, equipping believers from around the world to know God and make Him known.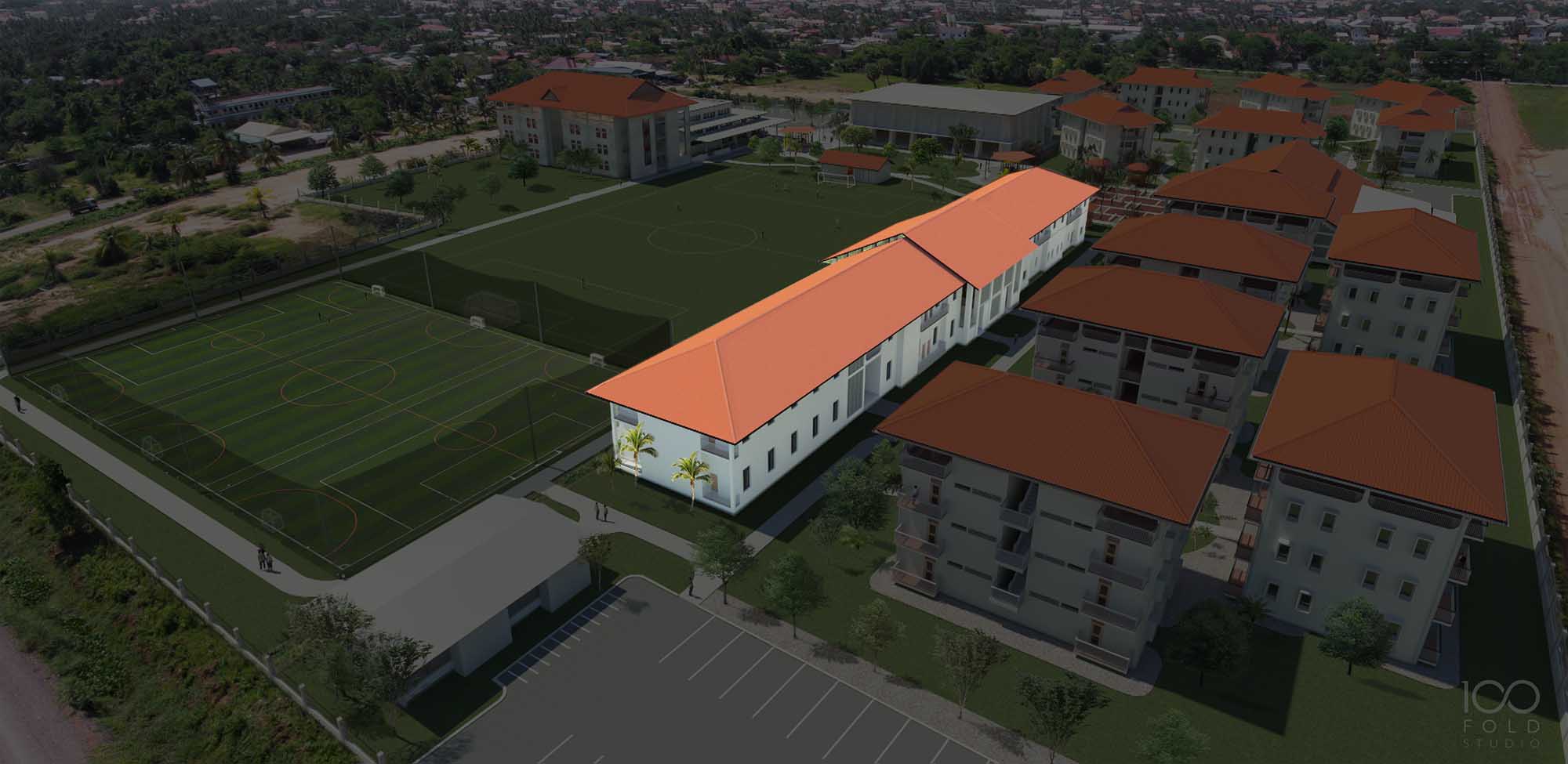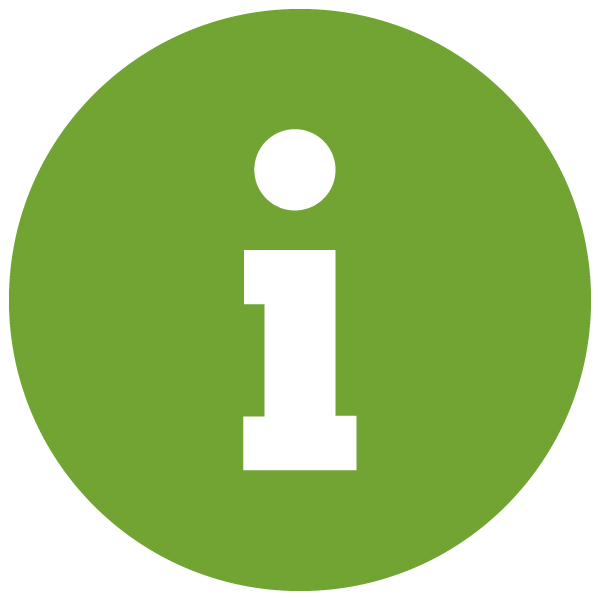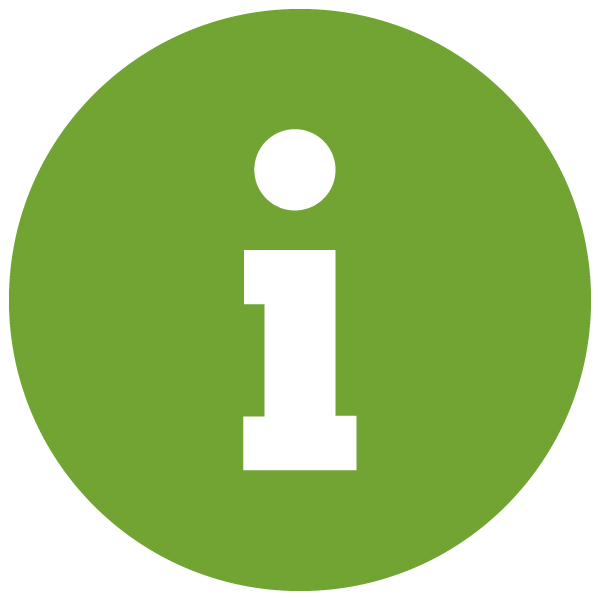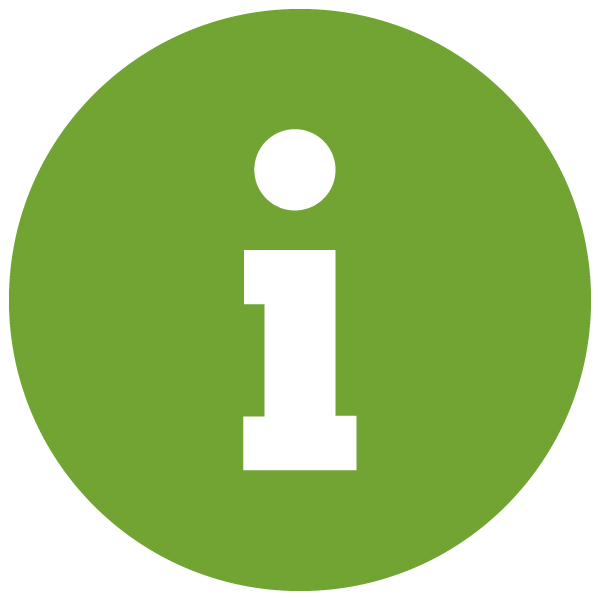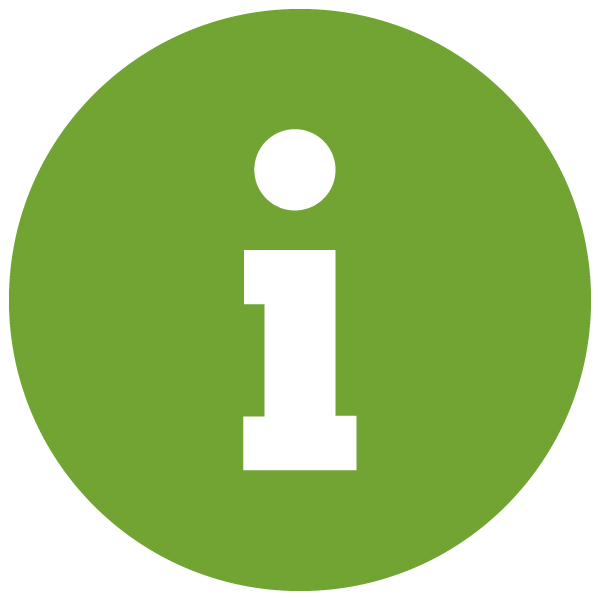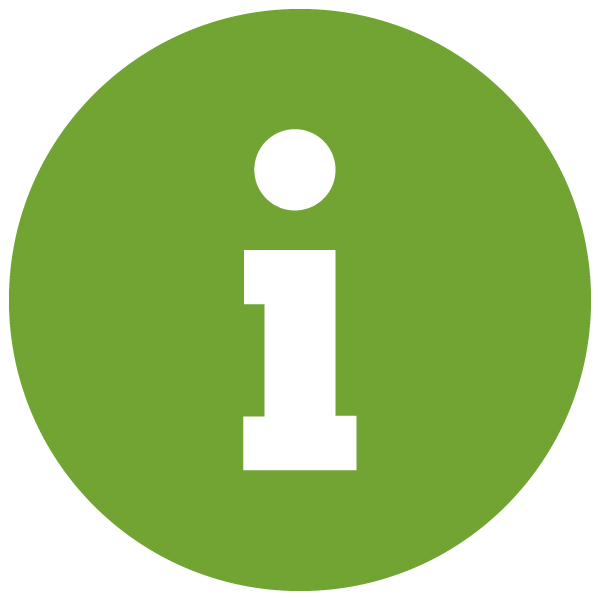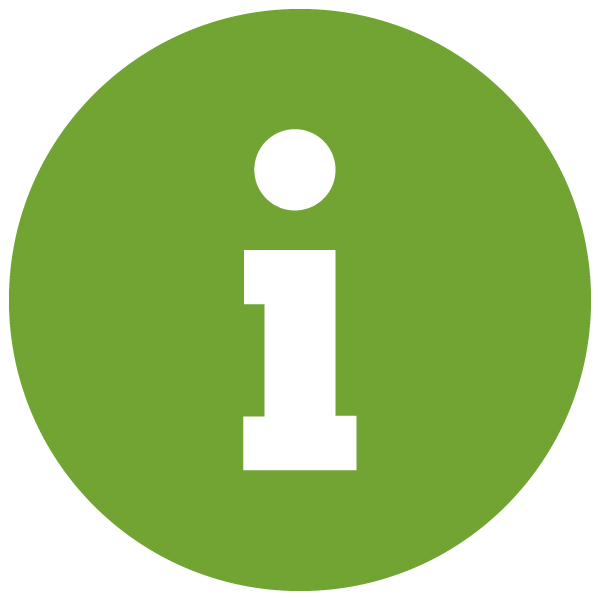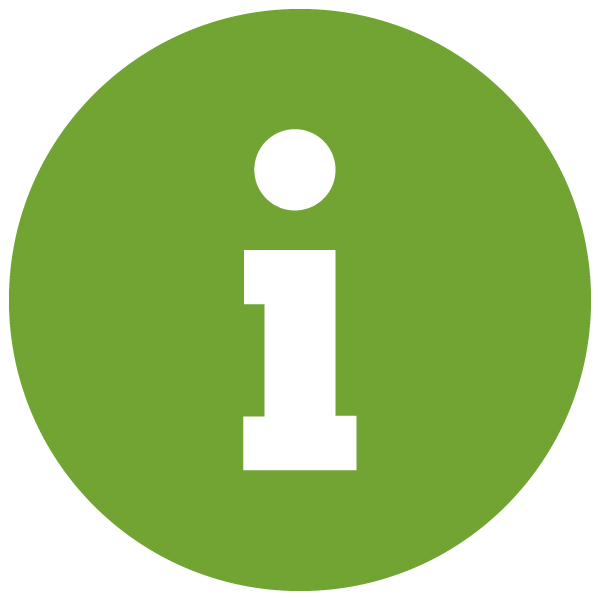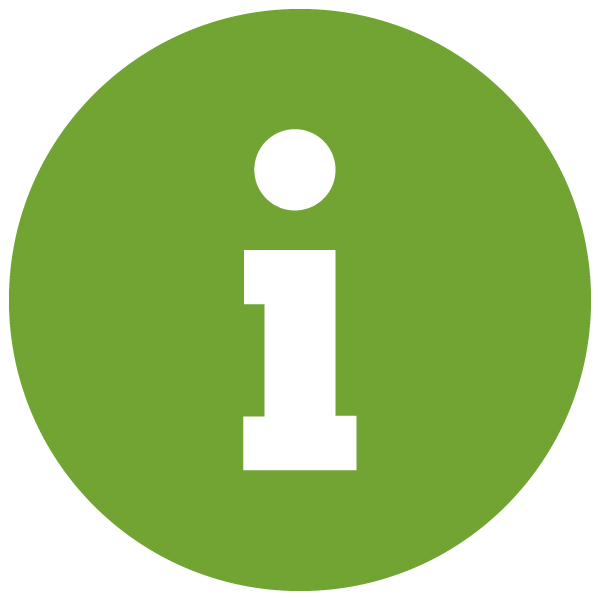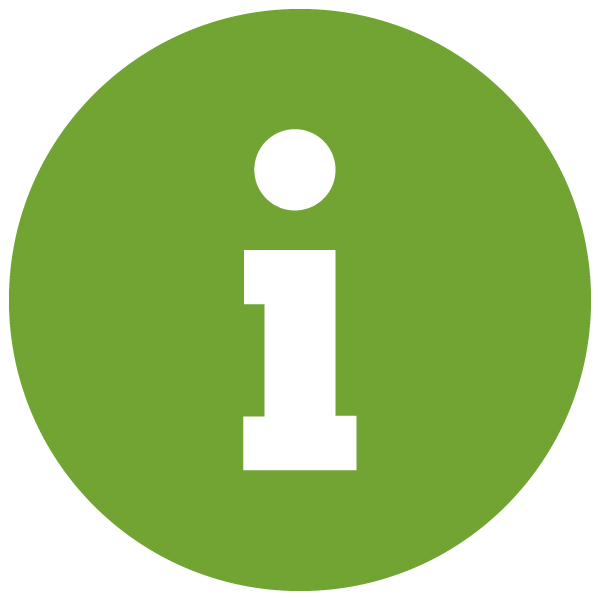 God is building hope in my country – 100Fold Studio
God is restoring and building hope in Cambodia.
Campus walk-through in 3D
See what's planned for us to better serve Cambodia and SE Asia

ONE NATION in ONE GENERATION
Sixty Years Ago South Korea was coming out of a war, one of the poorest nations in the world & highly culturally Buddhist. Today this nation is one of the wealthiest nations, highly Christian and is the second leading nation in sending Christian missionaries. God literally transformed a Nation in One Generation. We find Cambodia in a similar situation to South Korea 60 years ago, the question is will the Body of Christ respond to this opportunity?
Please pray about partnering financially with us to see our Campus built
(All sized tax-deductible donations are needed)
Donate Now
For more information please email us .
Blessings from Battambang, Cambodia,

Garth Gustafson
Director, UofN/YWAM Battambang, Cambodia